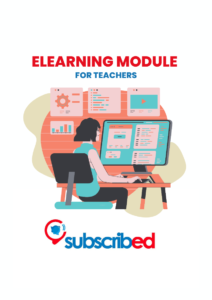 Here it is, we are launching the e-learning module for secondary school teachers!
With the SubscribED project, we wanted to give you the possibility to create and use content adapted to your pedagogical objectives and the specific needs of your students, thanks to using social media.
Our e-learning module gives teachers the knowledge and skills to create their own content and support their learners with adapted teaching methods. In practice, it guides teachers in a step-by-step approach to develop the digital skills needed for participation and content creation on social networks, with the aim of allowing them to create useful pedagogical content.
This training consists of 5 parts that correspond to the different steps of creating educontent for social media. It is designed to last about 10 to 15 hours, including the time needed to design, create and fine-tune the educational video you wish to work on.
Course outline:
Part 1: Theorical introduction
Social media for complete beginners
Why use social media in class
Tips to use them safely
Part 2: Preparation
How to choose and fit the learning objectives you will use?
Equipment needed
What material you can use
What social media you can use according to your objectives
How to write a detailed and efficient script
Part 3: Creation
Shoot your first video!
How to integrate quiz and interactive content
Part 4: Editing
What software to use?
How to derush your video?
How to make your video more engaging
How to make your content more inclusive
Part 5: How to use the content created in the classroom
How to use your final content
Tips to keep creating and exploring new tools
How to make sure your students engage with the microlearning content you create
How to include infographics or Instagram carousel in your class
You can obtain a free certificate by successfully answering the final quiz. Registration is free, so don't hesitate to try!